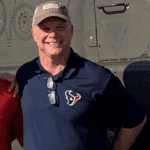 One of the most impactful decisions of my life was joining a Lenten study series with a small group of men in the spring of 2006. Our initial plan was to meet for 6 weeks; however, a powerful bond developed between us, and we continue to meet today. Along our journey, we have experienced all that life brings including laughter, celebration, anxiety, and sadness. When I first joined the group, I was eager to learn about Christ but had questions about my faith. I was soon comforted after discovering others had similar struggles or uncertainties. The group has transformed life and made realize the importance of having a group of men that I can be vulnerable with and share life's experience. God has used my brothers in the group to grow my faith, comfort me in need, and show me His love.
Several years ago, they walked with me as I went through a difficult work transition and times of job instability. The power and attraction of being part of a FinD small group is amazing. I cannot imagine "The 13" not being a part of my life.
Walt is a regular attendant at Houston's First Baptist, husband to Jennifer, dad to two amazing sons, and a graduate of the University of Oklahoma and the University of Texas at Austin.
FinD seeks to transform men through Jesus Christ in authentic, weekly Fellowship in Discipleship.This testimonial and many others from FinD men can be found
at: https://finddiscipleship.org/testimonials/

UPCOMING EVENTS…
 Stay tuned for formal date announcements for, and FinD ADOS (Annual Day of Service) – usually
in mid-October and FinD Fall Fire Pit Night at The Powder Keg – likely in November
 February 2 nd – 4 th, 2024 – FinD Annual Retreat at Stoney Creek Ranch
Real Men…Real Discipleship
Want to get plugged in? FinD out more by visiting our website at https://finddiscipleship.org/interest-
form/or or contact us at info@FinDdiscipleship.org.