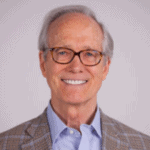 "Fellowship in Discipleship ("FinD") is the best men's discipleship small group ministry that I have ever been involved with. I have observed how FinD is a vehicle to truly transform the lives of men, and as a result the lives of all the people with whom they relate, including family, friends, workplace colleagues and others they interact with.
There are many factors that contribute to FinD's success, including the patient and deliberative way that each small group is formed, and how FinD provides a safe place for men from all walks of life who are committed to sharing with, learning from and encouraging each other. The spiritual growth that results is remarkable and best demonstrated by the moving testimonies from so many of the men as to how their lives have been transformed. FinD also provides a vehicle for the men in the various small groups to gather for services projects, retreats and community with each other, which provides a sense of belonging to something bigger than themselves. In addition, FinD benefits from the guidance of a small, engaged Board of Directors, made up of representatives from the small groups and independent Board members.
However, the most significant factor contributing to FinD's success is the Holy Spirit-inspired leadership by FinD's Founder and President, Clint Harrington. As a result, FinD is truly a ministry that is inspired and directed by God.
It is an honor and a privilege for me to be involved in such an outstanding ministry!"
Peter Forbes
Biography
Peter joined the original FinD Board of Directors in July 2018. He serves on the Advisory Board of Loving Houston, a ministry dedicated to advancing community transformation in Greater Houston by helping churches partner with local schools, serving as Chairman from 2015 to 2017. Peter is a Board member of CanCare, a ministry dedicated to making sure no-one has to go through cancer alone, and he is President Emeritus of National Christian Foundation Houston (NCFH). Peter serves on the Advisory Board of Houston Responds that exists to unite, empower and mobilize churches to respond to disaster and expedite recovery. Peter was the founding President of NCFH in 2007 and served in that capacity until 2014. Prior to that, he was Director of Fundraising for CityFest Houston with Luis Palau, an evangelistic festival that attracted 225,000 people. Peter immigrated to Houston from Edinburgh, Scotland, in 1975 and spent the first 28 years in business as a Financial and General Executive with both private and public companies. He is a graduate of Edinburgh University, a Scottish Chartered Accountant and was a participant in the Advanced Management Program at Harvard University. He is passionate about discipleship, reuniting the Body of Christ in Houston and encouraging others to reach for and achieve their full potential in Christ. Peter worships at Chapelwood United Methodist Church, and is married to Barbara and has three children and three grandchildren.