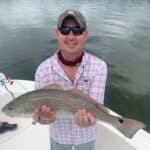 I had been involved for several years in a retreat called ACTS through St. John Vianney. The retreat always built up the fire to deepen my faith while interacting with other men walking their own paths in life and dealing with similar issues related to fatherhood, marriage, faith formation and strengthening our relationship with God. The retreat was always a great weekend but then it was over and I was left wanting more, having to wait a year to do it again. The journey off the mountain made it hard to keep the fire lit.
That's when one of my FinD brothers, Eric Bach talked, with several of us about the concept of a small group and how much his group, Cross Heirs, had helped him keep the fire burning. Through his and Clint Harrington's guidance, several of us ACTS veterans, began our own small group called GAIMers (God Alone is Mercy).
Our group started in 2015 and has been going strong ever since. We've been able to keep the fire burning in each other by learning together, praying together, serving together, and playing together. Having an accountability group to whom you can laugh, get serious, cry, etc. with is great to continue building ourselves and our relationship with the Lord. We constantly remind ourselves that our goal is to get each other and our families to Heaven and take as many more with us as we can.
Integrating our group into the greater FinD network has allowed more doors to open for us to build bonds as fathers and husbands along with lifelong friendships.  From the early FinD Fire Pit days to the more recent annual retreats, we've taken advantage of these opportunities to continue to grow spiritually.  No matter where you are in your faith journey, every man should consider the value of a small group to bring community, strengthen faith, and develop accountability to their life!
Keith is an active member at St. John Vianney, husband to Erica, dad to two amazing kiddos, a Director of Water/Wastewater Infrastructure Services at KIT Professionals, and a fightin' Texas Aggie. GAIMers = God Alone is Mercy.
FinD serves to transform men through Jesus Christ in authentic, weekly fellowship in discipleship. This testimonial and many others from FinD men can be found at https://finddiscipleship.org/testimonials/
Real Men…Real Discipleship. Want to get plugged in? www.FinDdiscipleship.org or info@FinDdiscipleship.org