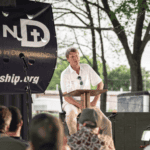 My FinD story! First thing I would say is to just run to Father and lean in. He will transform you into a difference maker. I let the deadly sin of pride deceive me for way too long. I finally turned the wheel over to the spiritual Being that made me - GOD. I repented and turned to live a different way with Him in control. And, man, was I saved by the grace of his Son on the Cross, His blood, His stripes. A free gift if I would just believe! It is past and present tense, I was and am saved! I was saved because I believe He died to take my sins along with everyone else that breaths on earth.
Daily, I am reminded that I am to go out and share the Good News, to reflect His light in the darkness. I am commanded to be His disciple and to shine His light. The men in my FinD group (BIGGINs – Brothers in Grace, Growing in Numbers) have leaned into me and been true difference makers in my discipleship walk.
The great awakening is here. My BIGGINs brothers hold me accountable and responsible to be a difference maker. It's what our Father, Son and Holy Spirit ask us to do while having this brief ride on this earth. I have found the Truth and it has set me free. I know where my eternity will be- do you? The challenge and spiritual battle is worth the fight every day. Pick up your cross and follow Jesus Christ. Do this in fellowship with other disciples in a FinD group. Don't believe the lies from Satan and all the deception the world paints around you. I lied to myself for a long time, and I blew off the calling. Now is the time to pray, talk nice to yourself, keep your joy and peace, learn the living and active Word of God in the Bible, and share your story daily with anyone who will listen! Get used to different!
FinD, BIGGINs, fellowship, discipleship, truth, repentance – what a game changer. I encourage any man looking for this same rich blessing to get plugged into a group as soon as possible.
Joel worships at Chapelwood United Methodist Church and is actively involved in men's ministry lay leadership there. He is a dad to three amazing kiddos – Sloane, Brynn and Peyton, and a graduate of Texas Tech University. He is also the Director – Business Development for Lonestar Electric Supply and a a regular NCAA referee for college football games around the country during each football season.
FinD seeks to transform men through Jesus Christ in authentic, weekly Fellowship in Discipleship.
This testimonial and many others from FinD men can be found here!
UPCOMING EVENTS (click for full event calendar)
Thursday, August 3rd - Astros Men's Night Out – Houston Racquet Club – 6:00 to 9:00 PM (MORE INFO)
Monday, August 21st - FinD Discipleship Council Meeting – The Refuge – from 6:30 to 8:30 PM
Saturday, October 21st - ADOS (Annual Day of Service)
Tuesday, November 7th – FALL FinD Fire Pit Night – Powder Keg – Start time TBD
Friday, February 2nd – Sunday, February 4th – FinD Annual Retreat at Stoney Creek Ranch – Speaker: David Dendy
EVERY MONDAY - FinD Recovery: MORE INFO
Real Men…Real Discipleship
Want to get plugged in? FinD out more by visiting our website at https://finddiscipleship.org/interest-form/ or contact us at info@FinDdiscipleship.org.