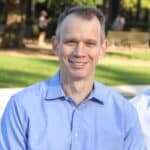 I have been inspired by the amazing things FinD has done in my life and for those men around me. So, I'm passionate about paying that forward and continuing the experience for others. I believe we are part of something truly special -- a movement that can free men from the bondage of spiritual complacency and breathe new life into our relationships with our Father, Jesus and the Holy Spirit. In that journey, however, there are many challenges, and the Enemy will actively try to thwart our efforts. So, as Christian disciples and FinD members, we must gear up and be active in the fight, using our talents and gifts to further the mission.
Throughout my life, I had very few role models for what it meant to be a Christian man, to
be a follower of Jesus with being a husband, father, friend, employee, etc. In fact, I had
more negative examples than positive! This led to a lot of confusion and doubt --
why was I getting it so wrong when everyone else seemed to be doing life perfectly?!?

Becoming part of a FinD group was game changing. In 2012, I joined the Sons of the Bible (SOBs). I was finally able to walk through life with other men and see how they handled its ups and downs, while they still pursued a relationship with Jesus. It helped me realize: 1) I wasn't doing it completely wrong! and 2) I will never do it perfectly! From them, I learned how to experience our Father's grace and Jesus' salvation in my daily life as a man. If they could know all my dirty laundry, and still love and accept me, how much more can our Father do that!

As I learned these lessons, I could easily see the power Christ through FinD was having in my
own life and in the other SOB's. Joining the Discipleship Council when it started in 2019 allowed me to see this ministry's impact over all 200+ of our members. That inspired me to continue getting more deeply involved, leading to taking on the FinD Discipleship Council Chair role for a couple of years and now heading up the FinD Health Check Committee and being a FinD Shepherd. Get plugged into a FinD small group and be blessed by how our Father will transform your life, too.
Ed currently worships at Hope City Church, is a husband to Sally, dad to two amazing kiddos, an IT Manager for Shell Trading, and a graduate of Baylor University. FinD seeks to transform men through Jesus Christ in authentic, weekly Fellowship in Discipleship.

This testimonial and many others from FinD men can be found at
https://finddiscipleship.org/testimonials/

UPCOMING EVENTS…
September 16-18 - South Texas Dove Hunt with ManStuff Ministries (Register for Dove Hunt
Here)
October 15 – ADOS (Annual Day of Service) at Family Point Resources (Register for ADOS Here)
February 3-5, 2023 – FinD Annual Retreat at Stoney Creek Ranch – Save the Date
Real Men…Real Discipleship.
Want to get plugged in? FinD out more by visiting our website at https://finddiscipleship.org/interest-
form/or or contact us at info@FinDdiscipleship.org.