A Note from Clint Harrington (Fresh Off The Trail)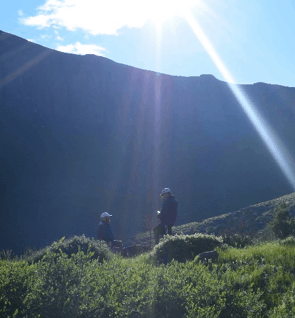 Intimacy with the Father
Mountain Top Experience
Deepen Relationships
I've just returned from Del Norte, Colorado participating in our inaugural FinD – WayForward Adventures Trip.  There are so many things I can't say to protect the great mysteries of the WayForward journey.  As you can imagine, it was an amazing trek with nine other FinD bruthas seeking the summit of intimacy with our Father and uncontrolled fellowship with one another. We were overwhelmed by the unblemished creation all around us.  The never ending Aspen forest, the Columbine flowers, the wild strawberries along the trail, the babbling brook that we followed to the mountain's peak, the marmots, chipmunks and singing symphony of birds throughout our march. From blue skies by day to the early evening fog that rolled over the range and warned us of the powerful thunderstorms soon to fall, it all provided a canvas for our Father to speak deeply into our souls. 
The physical crush of the ascent itself is part of the process. Loaded down with 50 lb packs and ever thinning air, most of us felt the pain in every step as we neared the end of each day's trek. But that served a purpose. It broke us down, cracked our manly pride, and softened our hearts to be better molded by the Potter's hands. The entire time, our spiritually, physically and topographically trained guides kept us in the dark about our whereabouts, progress, meal plan, and devotional order. Why? So, that we could experience a complete surrender of control that we get so dependent upon in our regular lives by being tethered to our i-Phones and Apple watches. Let it go. Trust the process. Lean in. Just BE WHERE YOUR BOOTS ARE!
Our group included Robert Casteel, Wade Crawford, Devin Galimore (our trip champion), Trevor Harris, David Hock, Dave Oakland, Mickey Peters, Brett Waltz, Tim Wardlow and me. We were guided by Will ("Sweeeeet") Bywaters and Jeff ("Hooyah") Legg, the ministry atop the mountain that could not be sustained without the ministry in the valley (Todd & Erin Pinkston – founders/directors, and a staff of 20-25 of the most amazing 20-somethings I've ever met from colleges all across the U.S.). I thought I knew my fellow trekkers fairly well, but I got to hear each of their updated life stories including that last fearful 10% that most men are not willing to share. Everyone has their mess and realizing that our Father still loves us in that chaos is so galvanizing and inspirational.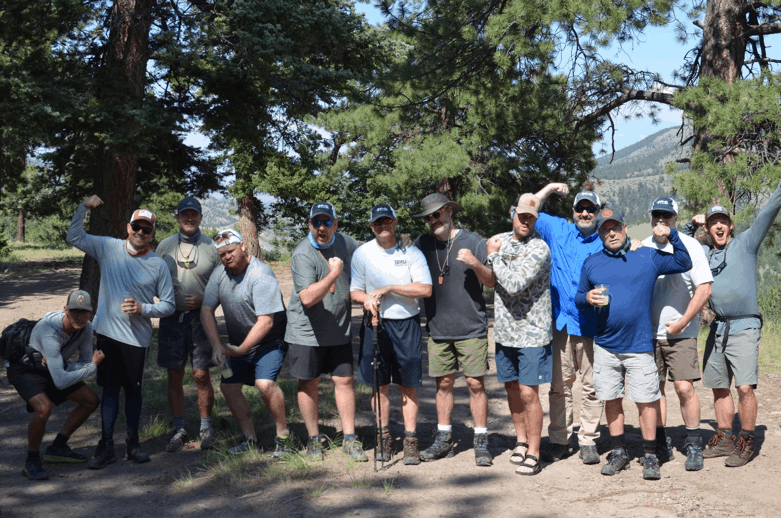 I have a very personal story from this journey that I'd rather share with you in person than try to put in written word here. But, the short version is, I went to the edge, and I wasn't sure I was going to be able to get back. Our Father gave me a life-view that I've never experienced before. I was fiercely challenged to work out my salvation with fear and trembling. As terrified as I was, our Father never left my side, and it has lit a fire in me to know Him far more than I thought I did. I'm so thankful for the brothers on this trip that laid hands on me and prayed encouragement and strength back into my soul as I was forced to make some very difficult decisions.
Tim Keller writes, "If it takes a community to know an ordinary human being, how much more necessary would it be to get to know Jesus alongside others? By praying with friends, you will be able to hear and see facets of Jesus that you have not yet perceived." (Prayer: Experiencing Awe and Intimacy with God).
YBiC,
Clint