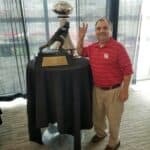 "Praise God, from whom all blessings flow! My weekly men's small group has been a tremendous blessing not only to me personally, but to my family, and all the guys in our group.
This group originally formed following a Chapelwood UMC's men's retreat in 2005. It was during that retreat that we were encouraged by the special guest to not let this "support" we felt over the weekend come to an end. Additionally, there were other attendees that were in their own existing groups and, watching their internal chemistry over that weekend, prompted us to consider starting our own group.
So, that is what we did. We started out initial meetings "every other" week studying a book here and there and doing check ins/prayer requests at the end of our meetings. Not much to it, just time to get together and be engaged and tuned in with other guys. Looking back, it was really just an extension of our Sunday School class (which was not a bad thing ).
Our commitment, however, was lacking as some guys would show up, others would not and we would take long periods of time off (such as summer) because of family time or because the group said they were "just too busy". That irregularity did not allow us to grow as we realized was necessary to become true brothers and disciples in Christ.
While our meeting times were somewhat inconsistent, our group was still relatively close and did step up to the plate for me and my wife during health issues I was experiencing after a couple different surgeries. They also stepped up for others in our group who experienced issues after hurricanes and losses of family members. These were all good and positive results that came out of our group; but again, it really was just an extension of our Sunday school class. We weren't getting deep. We may have been afraid to really "open" up. It seemed, in hindsight, that we were just going through the motions. We were not really taking advantage of what this small group could offer.
During the last 7-10 years, some guys naturally dropped off. As the remaining group pondered where our group will go next, the Men's Life organization at Chapelwood allowed us to meet some awesome new guys (who were NOT Chapelwood members) that ultimately were added to the core group. This new blood re-invigorated us and gave us a new dynamic with fresh perspectives that were outside of our current church environment.
The addition of these new members naturally led to a rehash of "how we got here from there" stories, increased our desire to get to know each member that much more and led to us re-establish our promise of confidentiality. In hindsight, while we definitely were at a point where we were just "going through the motions", the new dynamic created by our newest members was crucial in getting us to our next level of spiritual awareness and desire for a deeper commitment.
As an added boost of spiritual energy, our group attended a FinD Movie Night ("Risen") and after Clint came to meet with us, our re-invigorated group prayerfully grafted into FinD (formerly known as WSGN – Westside Small Group Network). It was at this time that we named our group the "Sons of Light" (SOL, John 12: 35-36).
Plugging into FinD renewed our focus and led our group to increase our meeting cadence to meeting every week instead of every other week. We were also encouraged to trust one another and dig deeper into the mud and muck of our lives.
Our book/bible study process remained, but we began to take a deeper dive into what we were dealing with as men, fathers, and husbands and to deepen our relationships with Jesus Christ and each other. Initially, it was very uncomfortable because we did not all know one another well enough to feel like we could completely open up and that created a natural roadblock for us. But a few guys started to "get real" and share the "ugly truth" about what they were struggling with and this re-affirmed that our group was a safe place where we could share our true life challenges. These changes led to increased dialogue about real issues we were struggling with, resulting in our relationship with each other and Jesus growing by leaps and bounds. We still have our fun outside of our regular meetings such as the occasional Top-Golf outings, Christmas dinners and more recently, a weekend get-away to Brenham.
I have always been a Christian, growing up in the church and continuing into adulthood. However, the Holy Spirit has used my small group and our studies to teach me how important it is to live it every day and have that deep meaningful relationship with Jesus Christ.
To all the guys in other groups, my words of advice are to stay the course, take advantage of the group you are in and enjoy watching your growth in your relationship Jesus Christ and with each other. To anyone who is not in a group and considering joining one, stop hesitating. Being in the fellowship of a FinD small group with other strong Christian men led by the Holy Spirit is a true life changer. Your journey will never be the same."
Tom is an active member at Chapelwood United Methodist Church, Client Support Specialist at Wolters Kluwer Lien Solutions, husband to Brenda, dad to daughter - Emily, and is a graduate of the University of Houston.
FinD serves to transform men through Jesus Christ in authentic, weekly fellowship in discipleship. This testimonial and many others from FinD men can be found at https://finddiscipleship.org/testimonials/
Real Men…Real Discipleship. Want to get plugged in? www.FinDdiscipleship.org or info@FinDdiscipleship.org