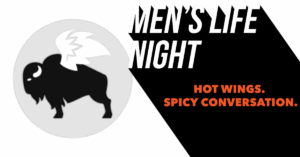 Men's Life Night
Monday, August 16 from 8:00pm-9:00pm
Buffalo Wild Wings
Location: 9453 Katy Freeway.
Men's Life Night is an unscripted gathering of men talking about spicy issues over hot wings. At the intersection of culture and theology we gather to discuss some hot-button issue in a safe and caring environment.
Aug 16 topic: Mental Health and Christianity
With so much talk about Simone Biles and her self-removal from the Olympics due to Mental Health, it's a growing issue in how people care for themselves and what sacrifices people are willing to take. How does mental health play a role in our own spiritual journey? Did Christ care about mental health?
Please Listen to this Podcast before Men's Life Night from Christianity Today:
https://www.christianitytoday.com/ct/podcasts/quick-to-listen/simone-biles-olympics-sports-faith-bible-podcast.html