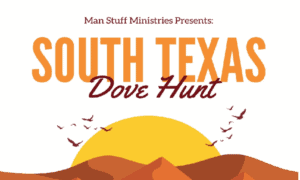 Man Stuff Ministry 2022 South Texas Dove Hunt
Register at https://manstuffministry.com/
This is an all-Inclusive hunt scheduled September 16-18, 2022.
The Dove Hunt is open to ALL men 16 years of age and older.
This is a Christian event.
ACCOMODATIONS:
-We will be staying in a condominium complex in Concan, Tx. We will be the
only group in the complex. The condos are all 2 bedroom, 2 bath condos.
-Bed linens and pillows are provided but towels are not included. There is a
really nice swimming pool and a sand volleyball court. The complex is located
about 5 miles from Garner State Park and right near the Frio River. We will
have easy access to the Frio, there are tons of fun things to do there.
-All meals from Friday dinner to Sunday breakfast are included. This will
include coffee with breakfast both mornings.
-All the rooms will be stocked with snacks and non-alcoholic
drinks. Unlimited non-alcoholic drinks will also be provided all
weekend. NOTE: No alcoholic drinks will be provided. Guns and alcohol don't
mix well, and drunkenness will not be tolerated.
-We will have a guest speaker Friday night and a live band will play during
dinner. We will have also another live band and guest speaker on Saturday
night with dinner as well.
HUNTING DETAILS
-We will be hunting opening weekend of South Zone, just south of Uvalde,
TX. Uvalde is about 30 miles from where we will be staying.
-All guide fees are included in the price and the tip for the guides is also
included in the price. The guides will clean and bag your birds for you as
well. Saturday morning and evening hunts as well as Sunday morning and
evening hunts are included in the price. Friday hunts are available but are
not included in the package.
This will be an awesome weekend of fellowship, great hunting and lots of fun!
We can't wait to see you there!